About Small Enterprise Development Co., Ltd.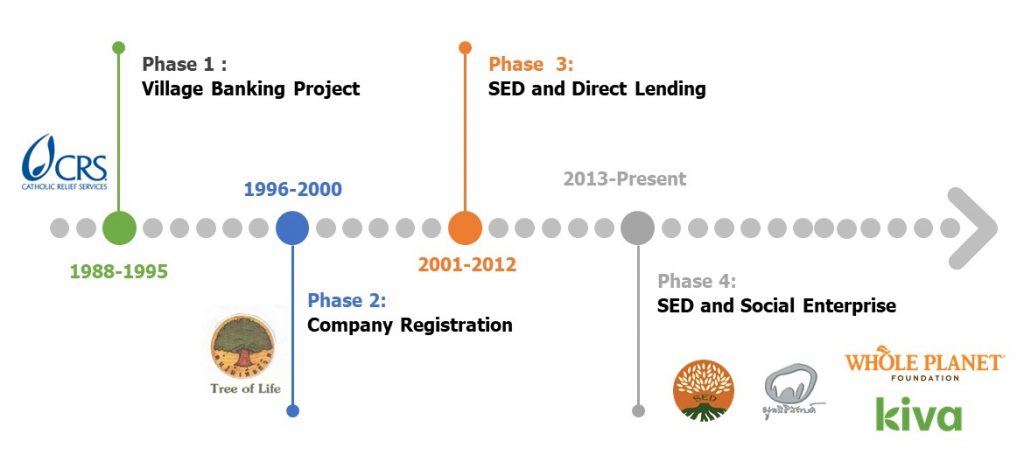 The Small Enterprise Development Co., Ltd., or well-known "SED", provides several microfinancial services for both group-lending and individual-lending. Its key service is the group-lending through a village bank (VB) established by a poor woman to practice regularly saving and provide financial services to improve their livelihood.
With more than 30-year experiences on providing microfinancial services, the SED has emphasized on participatory working approach and its background can be categorized into 4 phases as the following:
Phase I (1988-1992): Village Banking Project
In September 1988, the Catholic Relief Services (CRS), an international charitable organization, initiated the Village Banking Project by lending loan with low interest, Wholesale Lending, to non-government organizations (NGOs) in the Northeast of Thailand to implement the project with the poor women in rural areas. During that time, there were 4 consortiums, i.e., Rural Friendship Association (RFA), FIAM, NET Foundation, and Appropriate Technology Association (ATA).
Phase II (1993-1996): Company Registration
In 1993, it was the second phase of the Village Banking Project. The CRS added two new approaches and later established the Small Enterprise Development Company Limited (SED) in 1996 legally registered on 26 March at Provincial Commercial Office.
Phase III (1997 – 2011): SED and Direct Lending
In 1997, the SED provided a new lending service, Direct Lending, by lending directly to the target group to improve its investment and build financial sustainability for the organization and village bank. During this phase, the CRS cooperated with the Microfinance Alliance for Global Impact (MAGI) to develop SED's strategy and study on marketing to create a new financial product. Furthermore, in 2004, the SED, as a consortium with NET Foundation and Raks Thai Foundation implemented the Social Support Project (SSP) funded by European Union (EU) building capacity on micro-finance for clients of Bank for Agriculture and Agricultural Cooperatives (BAAC) in the Northeastern region of Thailand.
Phase IV (2012 – to present): SED and Current Community Development Work
In 2012, the CRS decided to phase out of Thailand and transfer shares and income from dividend as well as loan interest to the potential organization to continue and sustain the Village Banking Project. Therefore, on 6 December 2012, the SED Foundation (SEDF) was established as a non-profit organization to receive the shares and income instead of the CRS as well as build capacity for village banks and their members.
| | | |
| --- | --- | --- |
| No | Name of shareholder | Shareholding percentage |
| 1 | SED Foundation | 55.0% |
| 2 | Credit Union League of Thailand Limited | 6.0% |
| 3 | Phanmai Group | 6.0% |
| 4 | NET Foundation | 6.0% |
| 5 | Diocese of Ubon Ratchanthani | 5.0% |
| 6 | Rural Friendship Association | 2.0% |
| 7 | Banthorn Oundum | 5.0% |
| 8 | Danai Phonrakmanee | 5.0% |
| 9 | Yupaporn Boontid | 3.6% |
| 10 | Thanayod Promdaow | 2.0% |
| 11 | Senee Buakhiaw | 2.0% |
| 12 | Somjan Buakhiaw | 2.0% |
| 13 | Aroon Tiabthong | 0.2% |
| 14 | Sudarat Koysawat | 0.1% |
| 15 | Jirawat Kaendiaw | 0.1% |
Village Bank Formation
Village Bank Management
Loan Management
Accounting for Village Bank
Dividend for Village Bank